Ever wanted to hang our with a loud rock band on the road?

Ever wanted to see how they really get all that stuff loaded in and out in no time?

Ever wanted to find out what Bob Mould really eats for lunch?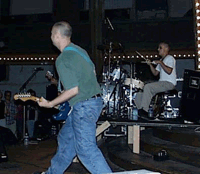 On what promises to be one of the great tours this fall, and on the retiring of his live loud sound with a full band, Bob Mould wants to give everyone (who is not in the band) a chance to come hang out on the road with them during the North American Leg of the tour in Denver on Friday October 9th, and stay through Sunday. All expenses paid.

To enter, all you have to do is fill out the necessary information and keep you fingers crossed. You will, of course, have to follow some rules. But that is always part of a contest.
Good luck and hope to see you at one of the shows.
The contest deadline has passed.
Don't worry if you missed it.
There will be others.

Please, be sure you qualify by checking out the rules first.
If you don't, please be assured that we will be having
lots of other great contests in the months ahead.