Preparation NYC - August 10 - September 10, 1998

August 10:
First day of full band practice.

Our rehearsals in a space in Chelsea. We were right next door to Lou Reed who was preparing to play at this summer's version of Woodstock. Some of the guys were lucky enough to sneak in and take a peek at the setlist. Heavy on the classics. Satellite of Love.......
---
August 24:
Angel Orensanz Foundation, Norfolk St, NYC
First live gig in front of an audience at the Angel Orensanz Foundation on New York's history drenched Lower East side.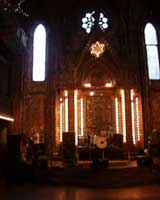 It was a sweaty, but fun, evening in a former turn-of-the -century synagogue. Not much air conditioning, but a real nice reception from the crowd. Click the image to the right a small "slideshow" of images from the world premier of the "Last Dog and Pony Band"
---
September 2:
Brownies, Avenue A, NYC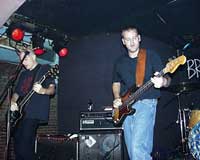 One more practice show in front of a live audience seemed to be in order.


So we called on our friends in Babe the Blue Ox (they warmed up for a Bob Mould solo-acoustic show about a year ago) to let us go on after them, using their amps and kit at Brownies, on New York's East Village. We are now officially ready to hit the road. See you there. Again, Click the image to see a small "slideshow" of images from the show.