Matt Hammon - Drums
Born May 26, 1973 - Houston, Texas

March 1988 - plays drums for the first time, listens to and derives
much influence and inspiration from "Epic Pop" bands from the UK and Ireland - U2, Simple Minds, Big Country, Cactus World News, etc. Accepts the gift of a drumset in May.
May 1990- assembles first band, Nothing In Return.
May 1991- June 1992 - Discovers the acoustic guitar, songwriting takes over soon after. 3 semesters at University of Houston, unsuccessful at best.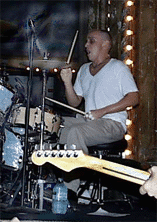 June 1992- March 1994- Splits time between NIR and Houston-based songwriter David Rice, experiences dramatic growth as a drummer and songwriter.
July 1993- Nothing In Return moves to Austin, Texas on the heels of 'Another Day', the first and only NIR record, continues to drum for David Rice live, and for "Lotti's House", Rice's second record for Houston-based Justice Records, in August and September, 1993, featuring NIR's Jeremy Gomez on bass.
Winter 1993-1994- Very Focused on booking and promoting NIR's February / March tour. Obsession with learning about the music industry. Wrote one song total in 1993, for the funeral of a beautiful NIR fan.
Spring 1994 - NIR bitterly dissolves after tour #1. Last show: March 18th, Fitzgerald's - Houston, Texas. Matt Co-founds and quickly thereafter leaves "Mineral" with bassist Jeremy Gomez and guitarists Scott McCarver and Christopher Simpson, (who, with new drummer, went on to achieve emo-rock icon status with 1996's "The Power of Failing" (Crank!), and solidifying a deal with Interscope Records in 1997). Matt moves back to Houston to play with David Rice exclusively through the summer.
August, 1994 - December 1995- David Rice moves to Los Angeles and signs with Columbia Records, Matt goes to college, spends a lot of time alone, and meanwhile addresses the "solo work", spending all non-university waking hours in a friends garage apartment 8 track studio in the historic Heights of Houston, culminating in 1996's olive drab, confessional, self-produced and mostly self-performed independent release aptly entitled, "Taking Things Away".
December 26, 1995 -Drumkit entered closet. New acoustic guitar enters life. Solo shows in Austin and Houston becomes life focus, yielding few, if any, actual dividends. David Rice and Mineral both ink major label record deals soon after.
Winter / Spring 1996- Severe depression. No music. Girlfriend of over 3 years splits. Enter: Tanqueray.
July 4, 1996 - Accepts offer to do a tour, drumming for Nothing In Return singer "Tess Wiley" in her new solo outfit, after she was untimely released from her post-NIR band, "Sixpence None The Richer", a few months prior.
Monday, July 29, 1996- Solo show in Austin at the Hole In The Wall. Main songwriting influence Bob Mould in attendance with bill-sharer Andrew DuPlantis. Friendship with Mould grows in following weeks, and Mould expresses approval of the drumming on Taking Things Away. August, 1996- Preproduction for new Hammon solo record in Austin.
September - November 1996 - Sessions for new solo record commence at Entropy Studios, Austin, with co-producer and great friend John Egan of Houston. Many new songs come to life, too many to have to chose. Focus lost, money depleted, record lies in wait. Cellist Brian Drell, recruited for the sessions, also accepts offer to round out the live situation. Played out live as a two piece under the moniker, "Closer".
November 9, 1996 - Opened the Liberty Lunch Bob Mould solo show where, backstage, interest in having a shot a playing drums for Mould at some point in life was voiced and duly noted.
--------------------------------------------------------
December 1996- January 1997 - Loma Ranch Studio, Fredericksburg, Texas. Assisted on the David Rice debut release, "greenelectric", for Columbia Records. Very Cold and Grey.
Spring of 1997- Darkest days ever. Nothing to mention or even, God
willing, remember, except for opening a sold out show for Ben Folds
Five in Houston, and a cover record with Tess in Nashville, TN.
May-June 1997- permanent relocation to the unparalleled inspiration of downtown Houston, Texas. A new batch of songs come out, sessions for the new record, now entitled, "Olivette" resume at the 8 track studio of years before.
July 2, 1997- Emergency Family Medical Crisis occurs. Love of life, family, music, and friends dramatically increase. Drums exit closet.
August-September 1997 - Accepts offer to do a European Tour with Tess Wiley and her German orchestra, mainly throughout Holland and Belgium, with a solo trip to the Czech Republic and England. Awesome. Highlight: Tea with Peter Gabriel at Real World Studios in Box, England.
October - November 1997 - Relocates to Austin to play drums with Chris and Jeremy of the newly defunct Mineral. A new band, "The Gloria Record", completed by Houston guitarist Brian Hubbard is born. Songs written, plans discussed, much promise shown. A new batch of solo material is also written.
December, 1997- Bob Mould calls out of the blue, over a year since last communication, and recruits Matt for his new record and tour. Answer-yes. Very Happy New Year.
January, 1998- 'The Gloria Record' produce a truly inspired mini-album, self titled, at Loma Ranch in Fredericksburg. Great results, very happy. Mould in town to begin sessions at Cedar Creek with Jim Wilson the very next week. Matt is busy in rehearsal space with headphones on learning the songs and tweaking the Ludwigs.
February, 1998 - "The Last Dog and Pony Show" drum tracks meet tape at Meridian Studios outside of San Antonio, Texas. Hands in need of immediate medical attention. Definite musical connection with Bob. Tour discussion underway. "Olivette" sessions continue in Houston to finish out the month.
March - April 1998 - Matt and The Gloria Record experience tension, try unsuccessfully to work through it, and agree to part ways. Sad, but good for all. Very good band. No regrets. Matt and David Rice play together at Loma Ranch for the first time in almost 4 years with great success, arranging and recording a new song, "Angel of the Summertime", virtually on the spot (in addition to several other, less flushed out ideas), and the intuitive nature of the musical connection between the two is instantly remembered and enjoyed. Both want to play together again and are keeping up regular correspondence via e-mail.
--------------------------------------------------------
May, 1998 - Best friend Jeremy Gomez gets married, Matt turns 25 the next day, moves in with Jim Wilson the next weekend. Preparations for rock tour begin, and continue through August 7. "Olivette" sessions continue, slowly, as there are now over 30 songs to chose from.
August 10 - September 7, 1998 - New York City. Dog and Pony tour
preparations. 2 new solo songs surface, as Matt's love of New York is strengthened and plans of relocating are in the works.
September - November 1998- Bob Mould Band, "The Last Dog and Pony Show" world tour.